240 MIOs attend Meat Inspection Officers Congress 2023
Gathering over 240 Meat Inspection Officers (MIO) all throughout the country, the National Meat Inspection Service (NMIS) held its Meat Inspection Officer Congress 2023 on May 22-26, 2023, at Hotel Elizabeth, Baguio City.
As the host region, Regional Technical Director (RTD) Dr. Domingo D. Gonzaga of the Regional Technical Operation Center (RTOC) Cordillera Administrative Region (CAR) welcomed the participants. He recognized the event as an opportunity to foster camaraderie and a strong and united nationwide community at NMIS.
"You are the guardians of progress entrusted with the responsibility of upholding the highest standard of inspection and enforcement," says keynote speaker and Baguio City Mayor Hon. Benjamin Banez Magalong through his representative Ms. Samantha Hamada. "Each inspection you conduct and each regulation you enforce contributes to building a stronger and more resilient society. Your dedication, expertise, and unwavering commitment to upholding the rule of law are essential for the progress of the country."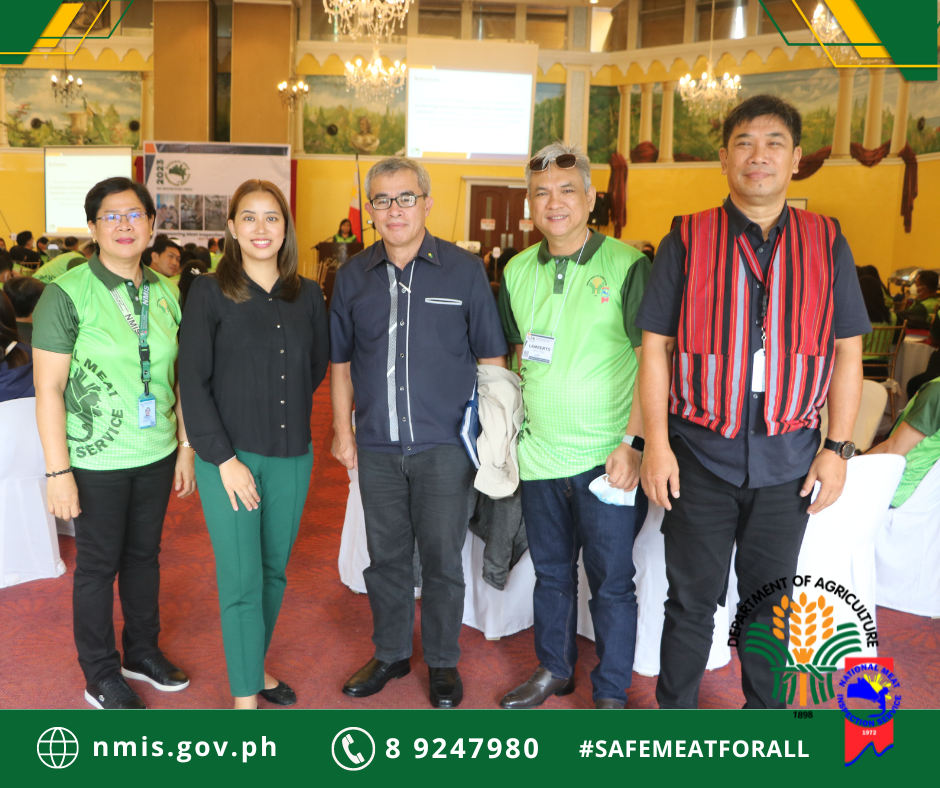 Guest speaker Regional Executive Director Dr. Cameron P. Odsey of Department of Agriculture (DA)-Regional Field Office (RFO) – CAR also shared a brief history of the Cordilleras and its contribution in the agriculture sector.
During the Executive Director's presentation of Ways Forward, Dr. Clarita M. Sangcal laid out the proposed reorganizational plan for FY 2024. Additional workforce for Admin and Finance at the Central Office and RTOCs, along with plantilla positions, for the promotion of Meat Inspectors IlI were proposed to give them hope and future on their career. Dr. Sangcal also discussed how she started as Senior Meat Control Officer up to her current position as Executive Director to inspire everyone to work hard with integrity and dedication while serving at NMIS.
With the theme "Empowering Meat Inspection Officers for the Future", the activity aims to explore the crucial role of MIOs in ensuring meat safety and quality which will focus on sharing valuable insights from successful collaborations, meeting expectations of the agency and its stakeholders, and promoting innovation. ###